Whether you're renting on Airbnb, Hustle Pads or an apartment… getting your home safe for guest should always be a priority. As a vacation rental host or Airbnb Host, it's your responsibility to make your space safe for guests and not doing so will only hurt your business and place you in liability.
To get your home safe for guests follow a property inspection checklist, use smoke detectors, carbon monoxide detectors, outlet covers, install security cameras and offer your house rules upon welcoming guests.
Use this navigation to jump to your content:
Prepare your home to rent
Before we begin to cover the things to do to get your Airbnb safe for guests, we need to cover one core concept:
If guests come into your home and feel like they are under surveillance or in a bubbled container then that will begin to show in your reviews and will hurt your business, so always keep that in mind.
Vacation rental hosts should always make their guests feel welcome and comfortable especially when adding safety features like cameras and wall outlet safety covers. Safety and design esthetics are two concepts that go well together when it comes to these concepts.
How to prepare your home for rent or Airbnb?
To prepare your home for Airbnb remove your personal belongings such as pictures, mail, kids drawings from your fridge and anything personal about you. Replace those empty areas with stylish storage containers or bins for guests to place their belongings. Replace locks and use an inspection.
You can leave recent magazines or books out for your guests only if they are general and relevant for guests. However, that annual magazine from the Home Depot is not going to win you any points so its best to get rid of that one.
Related: The Best Amenities To Keep Your Vacation Rental Booked
Safety in your Host Checkin Instructions
Guest safety should begin before they arrive. To get your short term rental safe for guests, hosts should leverage their host checkin instructions.
Safety checklist for checkin instructions:
Never give your checking instructions until guests are about to arrive. Avoid leaking your access keys to fake guests and potential intruders.
If you are hosting on a platform like Airbnb or Hustle Pads, only use the platform to communicate with guests and never directly.
If you hosting directly with a guest, do a thorough check about your guests and who they are traveling with.
Ask you guests questions (within reason) about who they are bringing like small children, pets or senior parents who may need specialty access.
Guest Safety in your house rules
What are house rules?
House rules are your means of informing your guests of what they can and can't do while clearly stating what the consequences of breaking those rules like penalties and fees.
Other items like condo rules, critical neighborhood bylaws and any other requirements that are placed on the guests should be clearly stated here as well, especially if you are also responsible for these as the owner of the property.
By creating friendly Airbnb house rules, that should not mean you are giving guests full freedom to misuse or take advantage of your space. The firmness of your house rules will largely depend on your location and requirements.
Safety checklist for house rules:
Check-in rules & Checkout rules.
Local emergency services contacts
Rules on parking.
List Off-Limit areas in your property, condo area or complex limits.
Security and cameras in and around the building.
Rules on visitors.
Neighborhood noise rules.
Laundry access on site or off site.
Out door cooking and barbecue rules.
Rules on pets.
Parties and events.
Disposal of garbage & recycling.
Access to pool, hot tub and safety.
Access to roof, balcony and deck areas.
Reporting damage and broken items.
Impact of compliance, consequences and fees.
Make your Airbnb safe for children or handicapped Accessible
As an Airbnb or short term rental host, it's BONUS points when a vacation rental listing is made safe for children or handicap individuals. If possible, making your property accessible to more guests actually opens you up for more bookings!
How to make your airbnb safe for children?
Hosts can enable baby and toddler safety by installing or offering outlet plug covers, installing gates on stairs, designate a diaper changing area with a bin for your guests to dispose of diapers. Also locks on windows and lower cabinet are great too.
These details should all be advertised if you are trying to capture guests with families and promote your these details in your pictures and guestbook.
Always indicate on your listing what age is appropriate for your vacation rental. "Suitable for kids age 18 months old and above."
Prepare a portable crib and children's high chair.
Always sealed or properly closed storage for cleaning essentials and other harmful chemicals.
Install a safety gate for your stairs.
Make sure your television is installed safely on the wall.
Avoid glass and sharp furniture.
Put protective covers on power outlets.
Install smoke and carbon monoxide alarm.
How to make your airbnb safe for guests with accessibility needs?
Hosting guests with accessibility needs is just like hosting any other guests. Upon reservation, be willing to accommodate and respond to them with full understanding to their needs.
How to welcome guests with accessibility needs?
Answer their questions and always give clear and accurate informations about your vacation rental and its limits.
Move some furniture, as they may need wider space to move around.
You guest may request some kitchen items or bathroom items at a lower reachable angle.
Moreover, if what they need does not match your listing, be reasonable and honest explaining it to them these limits. Both Hustle Pads and Airbnb prohibit any form of discrimination. Please visit our is our Nondiscrimination Policy to know more.
Secure your space with security Systems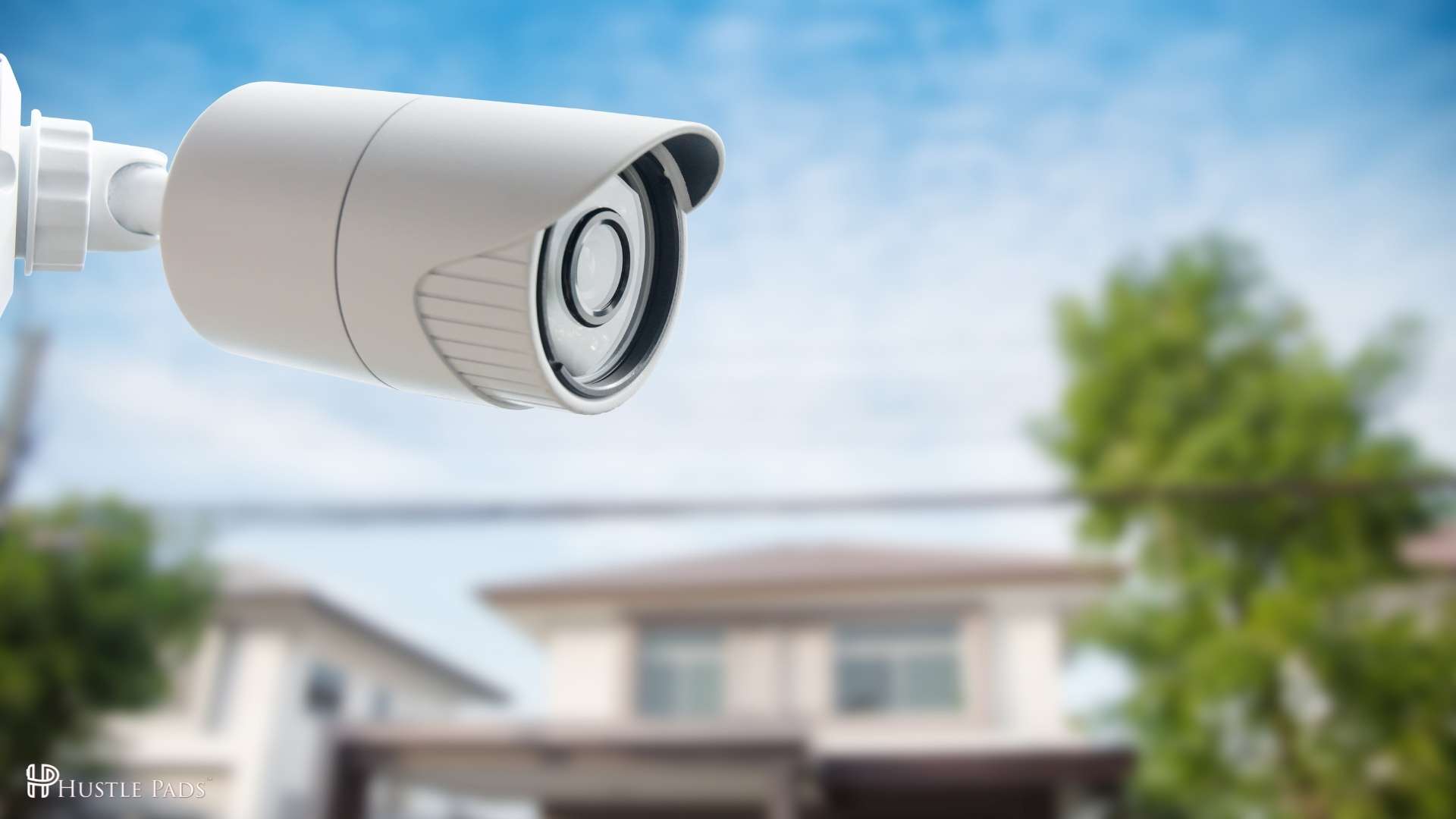 These days security systems and cameras are essential for hosts. Even though they may be an additional expense to install these systems, they go a long way in keeping your property protected and gives you and your guests peace of mind when done correctly.
In regards to privacy, always follow the platform's security policy. The Airbnb Policy on Recording Devices and Hustle Pads' Policy on Security Devices both exclude cameras in sleeping or changing areas. This also includes extends to places where you may have a sofa with a pullout bed. Therefore the placement of cameras is best suited for driveways, pools, yards, entry ways and other critical areas.
Hosts should consider these to be safety essentials and leveraged in some way on each of their properties.
Types of Security Systems
Security devices for Airbnb and their effort level and costs table.
What are the benefits of having security cameras on my airbnb?
While security cameras cannot totally eliminate crime, authorities have stated that security cameras can dissuade a perpetrator or bad guest behavior.
Security cameras with features like motion and noise detection can send siren sounds and instant alerts.
In case a burglary occurs, authorities can recover recorded footage from security cameras that can help capture the culprit.
A great way to make your guest feel safe while at your property when done correctly and disclosed to guests when required.
Whether your property has guests or is unoccupied, you have peace of mind.
How to choose the best outdoor security cameras?
With Night Vision function. Equip your house with a night or infrared vision camera for day and night recordings.
With High-Quality Lens. Indoor and Outdoor security camera with 1080p HD is the most ideal type.
With Wide Range feature. It is imperative to have a wide range of functions for an outdoor security camera that will cover vulnerable areas of your property.
With Motion and Noise Detection. To keep your house from burglars, set your alarms to send alerts for a possible crime.
With Enough Storage. Ensure that your security cameras have enough storage to store recordings in case you need them. The most commonly used home security camera is Cloud storage.
Safety Inspection Checklist for Airbnb
Your vacation rental needs a safety inspection checklist so you don't forget critical checks. These simple lists can be the reason you can avoid lawsuits and bad reviews from guests. Part of preparing your space for renting should include the following safety checks.
INTERIOR SAFETY CHECK

Lights, outlets, doors, ceilings, walls, floors, fireplaces, handicap accessibility features, security systems and stair railings.

APPLIANCE SAFETY CHECK

Smoke and CO Alarms, washer dryer, stove, oven, fridge, water heater, AC Units, plumbing and water pumps.

EXTERIOR SAFETY CHECK

Lights, Stairs and railings, landscape, gates, windows, roofs, walkways and decks or porches.
Prepare your airbnb for a weather emergency
We all know that weather emergencies are unavoidable, therefore your property should be prepared for any. It is always better to assume that something might occur for the safety of your guests and property. Consequently, equip your space with emergency supplies such as:
Fire extinguisher in the common areas
Fire alarm and carbon monoxide detectors
Flashlights and batteries
List of local emergency contact numbers.
Shovels for snow if needed.
Safety when Communicating With Guest
Your communication as vacation rental host is always an opportunity for safety, both yours and theirs.
Ask reasonable questions like what is the purpose of your travel and are you traveling with kids or pets. You are the last line of defense for protecting your home from bad intentioned visitors and from protecting guests from an experience they might regret or find out only upon arrival.
For example, if our main door requires two flights of steep stairs and thats the only method to get in and out of the door, let the guest know in case they are traveling with a toddler or they themselves have physical disabilities. Leave it up to them to be aware of these risks prior to them completing their reservations.
These products have been reviewed by our editorial team or other users. By using our links it helps to support our Hustle Pads Travel Magazine and we may earn commission.