The debate is over, Hosts should offer vacation rental desks or workspaces in their Airbnb. Latest trends show that your guests are most likely to work remotely while they travel.
Offering a workspace doesn't mean dedicating an entire room within your home. An Airbnb desk or a small workspace is enough for remote workers to get their work done.
Remote workers are the new long-term travelers and it's more important than ever to accommodate these new types of long term guests.
Trends on long term renters and the need for Airbnb desks or Workspaces
Since the pandemic 82% of employees in the U.S claim they want to work from home at least part-time according to Global Workplace Analytics. If you're looking to win their business and reviews it's important to enable these experiences in your rentals.
Why are workspace desks important for your Airbnb?
By providing a small workspace in your rental you help guests bridge the gap between a hotel experience and a personal home office. The more hosts can enable these experiences, the longer guests will continue traveling.
What are the different types of remote workers?
The two main types of remote workers are Call-Heavy remote workers and Project-based remote workers.

You can place a desk anywhere and instantly provide a workspace for your remote workers, but certain remote workers require a particular type of workspace.
Call-heavy remote workers need quiet spaces to work because they're typically on calls for back to back hours. These remote workers hate annoying background noise and want to avoid telling their friends to keep quiet! These types of workers include sales people, customer service representatives, online teachers.
Where is the best place to put a desk for call heavy remote workers?
The best desk location for a call heavy remote working guest is in a bedroom, spare room or hallway. Anywhere they won't be bothering their friends and family in the other rooms. Best of all they also won't get a cramp from working in bed all day.
On the other hand, Project Based Remote Workers have the flexibility to work wherever they please. Project based remote workers includes anyone else who isn't a call heavy remote worker. A study by Craftjack found that 65% of remote workers have worked in bed and 45% work regularly on their couch.
For project based remote workers, where is the best place to put a desk?
Anywhere! Since these remote workers aren't on calls often they can appreciate a creative workspace.
Tables, porches, large bay windows and front porches to watch the sunrise are great opportunities to give guests a great workspace experiences thats flexible for you and your next guests. Just don't forget access to power outlets!
Related: A Guide On What Remote Workers Want From Vacation Rentals
What Is The Perfect Vacation Rental Desk
The ideal height of a desk is between 28 inches to 30 inches with a standard desk depth of 20-30 inches. If possible getting adjustable height desk is also a great way to get high reviews and will attract those call heavy remote workers.
The standard width is 24 inches. The depth and width of the desks should be ideally enough to hold a laptop and gadgets like a camera and other travel blogger gear if you're trying to attract those digital nomads and influencer types 😎. When getting your home comfortable for remote workers, it's important to remember there are a variety of "types" of remote workers you may have.
Best desks for Airbnb 2022 – easily Purchase Ideas
Finding a desk that matches your design style and space is always tough. Here are a few desks you can buy today that are well reviewed and can fit multiple design choices.
1. Short Study Computer Desk
This 32 inch computer desk with a metal frame is perfect for mall places and is at the top of our list because of so many places and decorations styles it can be used with. This design fits almost any decor.
Maximize your space or show off a great corner window with this L-shaped Airbnb desk.
A two shelved wooden Airbnb desk is a good choice for large common rooms where those side shelves could be used to hold board games, or extra storage for those rooms that are lacking in other alternative storage.
An adjustable height desk with a humanized design and a larger desktop & ample space.
An ergonomic design and pneumatic lift system desk will allow guests to work anywhere in the home and might be the reason why you get longer stays! The desk surface 27.2"wide by 18.9"deep with height adjustable from 29.7" up to 45.2" to suit your preference.
Attract fitness type remote workers with this desk bike! Make sure to list it in your listing description as a call out. This exercise bike has an adjustable seat and surface to fit your preference. The FLEXISPOT exercise bike comes with wheels so you can work anywhere in the home. Top rated by many remote workers!
When space is limited this wall mounted desk is a great solution.
Get a breath of fresh air at your balcony. This Balcony Bar Table frame is made of industrial-grade thick aluminum, with adjustable tabletop height.
Made up of solid wood frame with simple nordic style and wide smooth desktop suitable for home study, writing, or office work.
This multifunctional table will be a perfect addition to your office or home. You could use it on bed, couch/sofa, desktop and floor. A snack tray for watching TV, a laptop stand for relaxing in bed or a standing table for office or home work; angle and height adjustable.
Join Our FREE Newsletter!
Liking this content? Get articles like this free in your inbox as well as updates on travel giveaways and more!
5 Things to consider when setting up your workspace for Remote Workers
1. Opportunities for Movement
Your workspace ideas should provide opportunities for movement, which can help improve creativity, mood and focus. The simplest way is a chair that swivels on wheels. There is nothing more annoying than a host placing a static regular chair as a desk chair. If you want big review points from your remote workers, include a Flexi Spot desk bike.
This brown leather chair under $200 is a great choice or this Flush White Swivel chair is a great choice since it can fit most decor styles.
2. Make it Feel Cozy
Having plants in a room not only brings a sense of fresh clean air to the space around it but there are numerous studies that have proven that there are multiple benefits in having indoor plants especially for work. Also these Cacti and Succulent plants are known to provide benefits of cleaning the air around you.
3. Natural Light
Natural light will always be the best light source for any room. Benefits include reduced eye strain, improved mood and less drowsiness.
4. Ergonomic Chair
There are 10 features to take note of when considering a chair, which include:
Seat Height
Seat Width and Depth
Seat Tilt
Backrest Lumbar Support
Backrest Recline
Swivel
Armrests
Headrest
Materials
Wheels
Check out these top 10 Office desk chairs with the highest reviews.
5. Access to Outlets
Rule of thumb is at least 4 plugs by the desk on a surge strip close by the desk.
Related: The Best Features And Amenities To Keep Your Vacation Rentals Booked
DIY Desk Ideas for your vacation rentals
Here are 9 crafty DIY desk ideas you can run with. Customize them to your needs and the best part is that you can style them to suite your interior design.
1. Hinge Off Wall DIY
Absolutely no space at all to fit in a desk? These hinged wall desks ideas are great and best of all when they fold up, they can have a mirror on the back for helping your desks get ready each day.
2. Window Nook
Do you have a large bay window or small space between walls? Turn it into a cute workspace!
3. Under the Stairs
Want to work but also be a part of what's going on in the living room? Set up a workspace under the stairs if you have one!
4. Built-in Desks
These kinds of desks may have to be planned along with the building. It is a great idea to save space.
5. desks with storage
Turn your workspace into a part time storage. If your place lacks storage why not have a place to store some extra snacks at the workspace?
6. Folding Desk
Here is a great idea from Housefulofhandmade.com with this Folding desk.
7. Patio
Want to give the opportunity to work everywhere, even in the comfort of your home? These patio desks are perfect to bring work outdoors.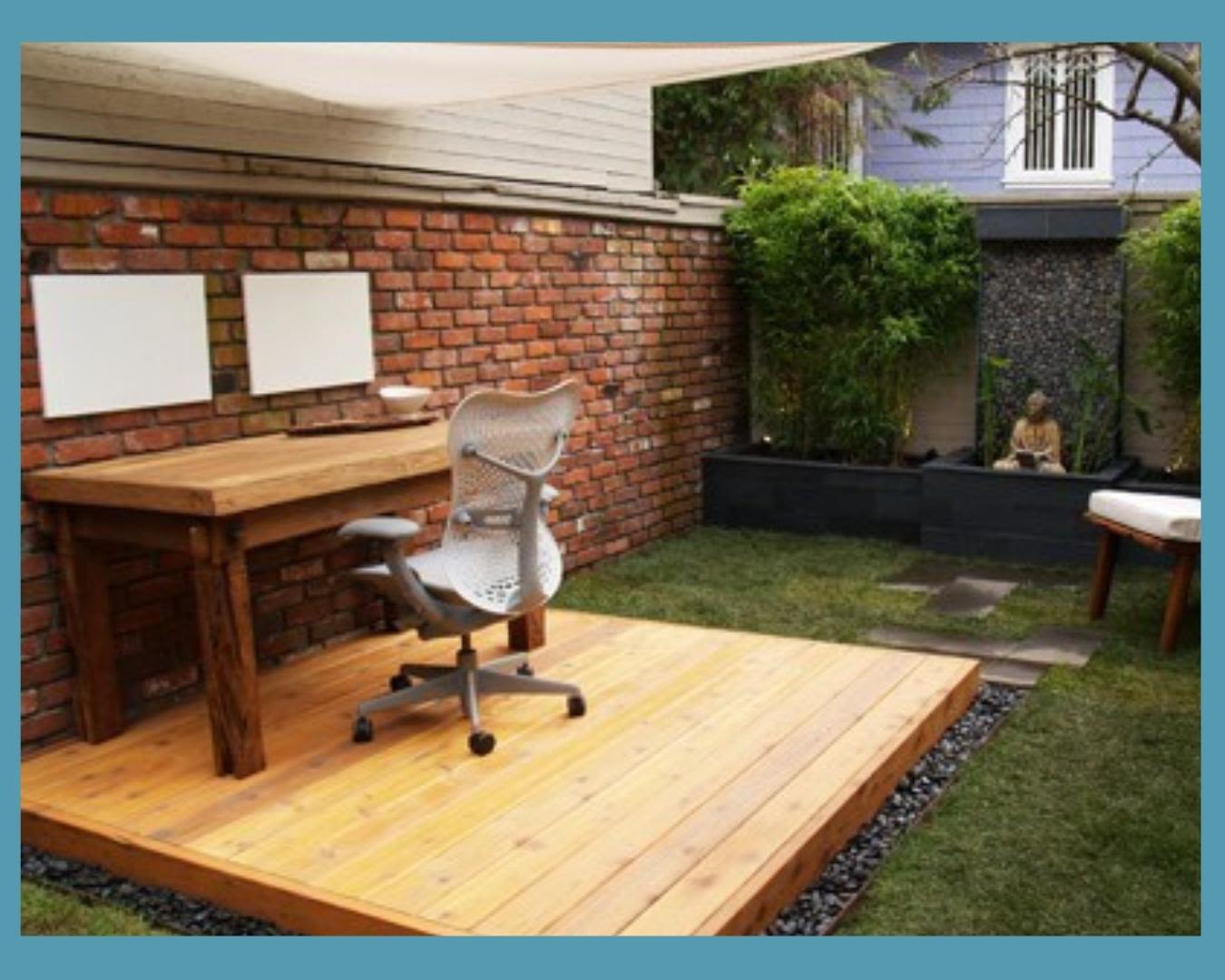 8. Balcony
Give guests a place to have their coffee outside and work by setting up a cute little workspace on your railing.
9. Garden
Love plants, butterflies and everything about gardens? Share your passion by giving future guests the opportunity to work in a garden!
Why Hotels Have Desks
Hotels have done their research and an article by Skift, talks about two hotels that experimented with removing their desks. The result was a backlash from angry guests! By offering desks in your vacation rental you can bridge the gab between a hotel experience and a cozy vacation rental.
Are Desks important on Hustle Pads?
They certainly enhance the Hustle Pads experience! Hustle Pads focuses on filling you'r rentals with remote workers with the goal of keeping your rentals booked longer. A study by Buffer has shown that 99% of people would choose to work remotely for the rest of their life if they were given the option.
These products have been reviewed by our editorial team or other users. By using our links it helps to support our Hustle Pads Travel Magazine and we may earn commission.